Ingredients: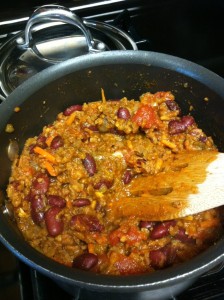 1 Tbs olive oil
1/3 c chopped onion
1/4 c shredded carrots
1 can diced stewed tomatoes (use liquid too)
1/2 c water
1 can dark res kidney beans
1 box of Fantastic World FoodsTaco Filling (found at large natural groceries- or the natural section of Kroger)
1/2 Tbs chili powder (or more if you like)
1/2 tsp ground cumin (or more if you like)
* add finely diced jarred jalapeños if you want to add a lot of heat.
Directions:
Sauté the onion& carrots in a large sauce pan until translucent.
Add the tomatoes & liquid from can+ water and bring to a boil.
Add the rest of the ingredients and simmer, covered, on low for 5-8 mins or until most of the liquid is absorbed.
Put this delicious chili on:
Nachos, rice, vegan hot dogs, vegan burgers, in burritos or use in tacos… The possibilities are endless!!!!!