Katie shared these beautiful spring rolls with me.  They are certainly a delicious and lovely way to eat your veggies, and imagine how nice it would be to share these with dinner guests or serve at your next party!
"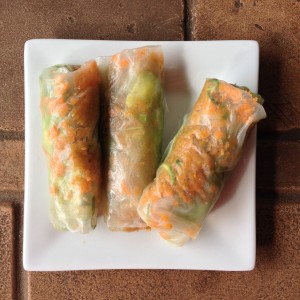 My friend Heather taught me how to make these. They are so easy! I had no idea.
You'll need:
Vietnamese Rice Paper (like this)
1 Avocado
2 Carrots
1 Zucchini
1 Bunch of Parsley
Lemon Juice (I used two small lemons from a Florida neighbor's tree)
Black Pepper
Sriracha Sauce
A Pinch of Cayenne Pepper
Let's get all of your toppings ready before we start wrapping.
Food process the carrots until they're chopped up really small and chunky. We juiced the carrots and used the leftover pulp for the spring rolls- do this if you can!
Cut open the avocado and score it into slices with a knife. Use a spoon to get those chunks out of there.
Using a spiralizer, spiralize the zucchini into thin ribbons.
Zucchini ribbon sauce: Using a blender, mix together all of the parsley, lemon juice, black pepper, srirache, and cayenne pepper. Adjust the taste as needed.
Mix the zucchini ribbons in with the sauce.
Let's make those wraps!
Find a large, shallow tub and fill it with warm/hot water.
You'll need to make the wraps one at a time.
Take one sheet of rice paper and submerge it in the tub of water and count to 5.
Place it on a flat surface and put the filling in the middle (see image for help on quantity suggestions). I used a small handful of carrot, one avocado per roll, and a bunch of zucchini.
Starting at the bottom, fold the bottom of the rice paper over the filling. Tuck in the corners towards the center. Roll that puppy up and maybe use a little water to secure the end if needed (you shouldn't need it)
Now do that for the rest of your filling, etc! I made about 7 rolls with all of these ingredients.
Enjoy!"