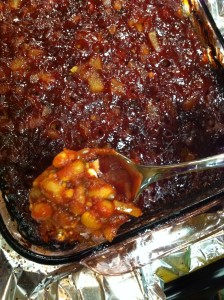 Oh my gosh! These beans are SO GOOD. They are a southern staple and will satisfy any smoky BBQ cravings you might have.
These are great for Bar-B-Q, cookouts, and game day!
Ingredients:
1 chopped onion
1 chopped green bell pepper
2 minced garlic cloves or 3-4 Tbs minced & jarred garlic
1/4 c dried pineapple chopped
1/4 c vegetable stock
1 can tomato paste
2 cans of navy beans
5-7 drops liquid smoke
2 Tbs molasses
1/4 can of beer (your choice)*
Maple syrup (to sprinkle on top)
Sweet Jalopy Jalapeños**
* The chef should consume the other 3/4's can, followed by a yeeehaw.
* My husband & I picked these DELICIOUS Sweet Jalopy Jalapeños up at a farmers market (we got the kind with peaches).  They are SO GOOD.  You should get a jar!  http://www.jalopyfoods.com/products.html.  If you can't get these fast enough, just chop up about some pickled jalapeño slices with a dash of canned peaches.  It's not the same, but it'll get you out of a pinch.
Directions:
Sauté the onions, bell pepper, and garlic in a large sauce pot until soft and translucent (you may use a Tbs of oil to sauté or leave it out)…
add the rest of the ingredients (except for the maple syrup and jalapeños) and simmer in the pot until thick…
transfer to a baking dish and top with maple syrup and jalapeños (you may add some additional chopped & dried pineapple to the top if you want to make them even sweeter)…
bake at 375 until thick and bubbly (about 30-45 mins).
Cool beans!