Katie told me how delicious this soup is and she really wanted to share the recipe.  I hope you all enjoy it too!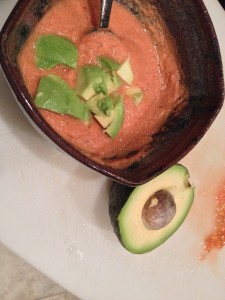 "This tomato soup is SO delicious, and it's raw, meaning it's got the maximum nutritional value from those yummy veggies as possible. Let's get started!
You'll need:
5 Roma Tomatoes
1 Clove of Garlic
1 tsp Dried Basil
A Handful of Fresh Basil
Black Pepper (to taste)
1/2 Cup Almond Milk (you can DIY if you'd like!)
Avocado (optional)
Cut and seed the tomatoes. Peel the garlic. Throw everything into a blender and make it completely smooth. Keep blending for a few minutes if you want to warm it up a tiny bit. Garnish with black pepper on top and a sprig of basil OR use avocado chunks on top to give it more texture.
If you decide to heat it on the stove or in the microwave, just keep in mind that it loses a lot of it's nutritional value! Once a veggie is heated over 115 degrees, the important enzymes begin breaking down. If you like a hot soup, go ahead!"